Gift Shop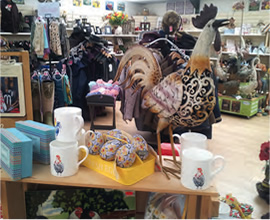 Here at Toad Hall our focus has been on providing healthy, beautiful plants throughout our 62 years serving the local community of gardeners.
While many garden centres have moved on to become mainly gift shops, we have remained passionate about our plants and the tools, machinery and accessories that help build a beautiful garden.
But we know that our regular customers have busy lives and enjoy the opportunity to do some gift shopping while visiting us. So this year you will find a wider selection of quality gift ideas at Toad Hall.
We've searched out unusual products that you're unlikely to find on the high street, so that you can surprise friends and family with the perfect well chosen gift. They range from cute heron solar lights to pretty china, stylish wellies to cuddly teddies, luxurious hand cream to wall features and much more, plus very attractive greetings cards.