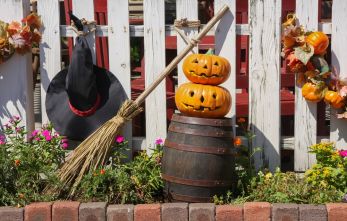 Time to get your garden ready for Halloween, but how do you make it into a spookily, stylish or fun garden where ghosts and skeletons hide in the flower beds and the pumpkins come alive at night? If you are looking for some ideas to get the trick and treating season off to a scary start, we've got lots of ideas for you to try.
The pumpkin pile
Autumn/fall Chrysthanthemums
Lights and spider webs
Ghosts and skeletons
A bucket of treats
The pumpkin pile is one way to get your garden ready for Halloween
There is nothing like pumpkins and all kinds of decorated gourds in the garden for not just a beautiful autumnal display but also to make a spooky Halloween display. They can be placed in piles with some cobwebs on top or along the edges of a pathway or up steps. You could paint them all kinds of colours, add faces or do the traditional carving and lighting up. It's great fun for kids and adults!
Get your garden ready for Halloween with autumn/fall Chrysthanthemums
Is there anything as pretty as Chrysthanthemums at this time of year for colour in the garden? If you have orange, yellow or red potted plants, you can move them around to create a Halloween display along with your pumpkins. Not only that but they give the garden a lot of colour at this time of year. They can flower in abundance and look really pretty even if you aren't creating a Halloween garden.
Lights and spiders webs to get your garden ready for Halloween
The Halloween garden wouldn't be scary enough without some spider webs draped around the trees, on the shrubs and over the lawn plus, if you use lights as well, they will glow during the night and give a Halloween feel to the whole space.
Get your garden ready for Halloween with ghosts and skeletons
What would a Halloween garden be without a few fun hanging ghosts from the trees, or even your front windows and at least one skeleton peering from behind a tree? Sure to get the neighbours jumping out of their garden boots as they walk on by!
A bucket of treats to get your garden ready for Halloween
If you are decorating your garden for Halloween, you will most definitely get some knocks on the door for trick or treating! You'll need to be prepared or expect the trick! Have a bucket ready on the front lawn or by your door full of fun stuff for visitors if you want to give treats. You could have sweets and chocolates but also seed packets and even plants and flowers. Have some fun this Halloween.
Visit us in store for your Halloween decorations.