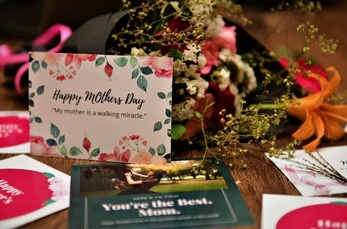 Wondering how to treat your mother for Mother's Day…wonder no more! If your mum enjoys plants, gardening and the outdoors, these ideas will give you plenty of options to decide on. Treating your mum can be great fun, and at the same time, you can show her your thanks and love in the best way possible. From gifts and time spent together, Mother's Day is a celebration and a time to be thankful for your mum.
Lunch surrounded by plants is a great way to treat your mother for Mother's Day
Why not visit a cafe or restaurant where you know there are many plants. Plants can create such a unique environment. They are beautiful to look at and create a calm, relaxed vibe for your mum to sit back in her chair, enjoy a cuppa and, of course, a piece of cake. Or, for a longer time spent together, enjoy a lunch date and even have a glass of bubbly.
Don't forget to treat her to a plant or two if you eat in a garden centre café. Spending time with your mum is time well spent.
Chat, laugh, look back at memories and photos or talk about the future.
Don't forget to tell her how thankful you are for her.
Treat your mother for Mother's Day with a plant subscription
If you'd like to gift something that keeps on giving, there are many plant or seed subscription services that will mean your mum gets a treat once a month for however many months you choose. From houseplant cuttings to packets of seeds and instructions, you can choose a subscription that suits your mum. Don't forget to add in a thank you note as well.
A meaningful Rose to treat your mother for Mother's Day
With so many roses to choose from, there is a rose for every mum. You could choose one that is your mum's favourite colour or even go by the name! The choice is endless, from container and patio roses to climbers and bush roses. Don't forget to check out each fragrance because one with scent might be even more special for your mum.
Treat your mother for Mother's Day and plant up a special container
Another way to give a gift to your mum that will keep on giving is to plant up a container full of beautiful plants that will flower from spring into summer. Your mum can place it on her doorstep or somewhere so she can see it often and think of you. Plant it with her favourite plants, colours and fragrances.
We have plenty of mothers day gift ideas in store, come and visit us to find yours.