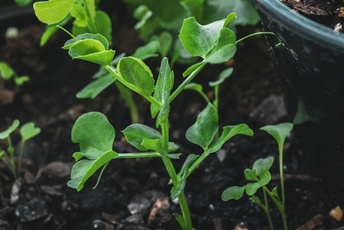 If you are wondering what to sow in the kitchen garden in May, which is a time of year when there is so much to do in the garden, we have got you covered! Sometimes this time of year can feel a bit overwhelming with lots of jobs to do and seeds to sow, plants to pot on, harden off and plant out but keeping a list of jobs to do and ticking them off as you go along can be helpful. The same applies to sowing seeds. Keep this list of seeds to sow with you, and as you work your way through the list, you can tick each item off and know you are getting through the spring jobs in the garden.
Sow annual flower seeds in the kitchen garden in May
May is the perfect time to sow your annual flower seeds for a summer display of flowers which you can also cut for the vase. Prepare where you want them to grow, ensuring the soil is fine and moist, then sprinkle your seeds thinly, lightly cover over and make sure there are no weeds as the roots are growing. Check the seed packet for specific instructions. Annuals to sow include:
Marigolds
Sunflowers
Nasturtiums
Cornflower
Wildflower mixes
Calendula
Cosmos
Ageratum
Vegetable seeds to sow in the kitchen garden in May
As the weather warms up and the soil temperatures rise, many seeds can be sown. Perhaps none as satisfying as those that become something you can eat! Direct sowing where the plants will grow is a great way to save space indoors or in the greenhouse, if you run out due to many trays of seeds already growing. Here are some of the seeds you can sow in May.
Courgette
Sweet corn
Broccoli
Brussel sprouts
Cauliflower
Kale
Peas
Swede
Salad seeds to sow in the kitchen garden in May
Salads are some of the most accessible seeds to germinate and grow. They can be grown in containers, window boxes, hanging baskets, or beds and borders. Great fun for kids too! If you regularly sow salads seeds, you can be harvesting from in as little as a few weeks after sowing and all the way through into autumn.
Lettuce
Spinach
Spring Onions
Carrots
Microgreens
Mizuna
Bok Choy
Chard
It's easy to get growing, and seed sowing is one of the most cost-effective and fun ways to grow your own food. We have a vast seed selection in store, come and visit us to choose yours.