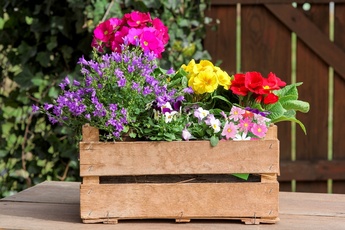 These top 6 presents for Father's Day will ensure your father knows how much you love him. It's a day to celebrate your relationship with him and give him a lovely treat, so he knows how much you care. Perhaps your dad is a gardener and would like some new gardening tools, or maybe he loves to do the DIY. Or if you'd prefer to give him something to relax with after doing all of the work, we've got you covered with these ideas.
The best Father's Day gift ideas
Garden planner
It is very easy to let the garden run away with itself, and all of the plans in your mind don't quite work out when there is so much to do! For Father's Day, treat your dad to the gift of planning. We have many different planners available, including letter-bound or paperback with different designs and lined paper inside monthly guides. Choose one that your dad will love so he can write his planting plans down and stay organised in the garden.
Wildlife camera
If your dad loves wildlife, a unique wildlife camera will be the perfect gift for him. They can be pretty compact, lightweight and vary in price. They can be easily set to record overnight with night vision so your dad can see what happens in the garden when he is snoring! He might find hedgehogs, deer, rabbits, foxes or even a badger making an appearance.
Magazine subscription
Does your dad love to read? There are many magazines he might like to land on his doorstep each month. From gardening and growing your food to nature, wildlife and even gadgets. Why not gift an annual subscription, so he receives his favourite magazine regularly.
A planted pot
Show him how much you love him by planting up a pot with his favourite plants. This is a lovely personal gift for your dad to show him how much you love him. You could plant perennials with interest for all seasons and underplant with spring bulbs or pot up some annual bedding plants and let your dad take it from there.
Seed bombs
A great fun way to spread some wildflowers is to simply throw a seed bomb! These are available in all shapes and sizes, from small seed balls to larger packets that can be thrown or sprinkled wherever your dad wants. If you do it together, even better!
Gardeners hand cream
If your dad gets his hands in the soil or uses tools a lot, why not gift him some hand cream or something to pamper himself with? From bath oil to scented candles, hard-working hand cream for tough hands and gardeners soap.
We have plenty of options to treat your Dad for Father's Day. Come and visit us in store. Check our opening hours on the contact page.