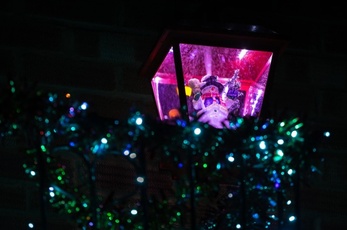 This guide to light your garden for Christmas will help you have a sparkling, festive display with energy efficiency in mind. It is possible to have a fantastic display on a budget, from small light features to a whole garden of fairy lights. There are many options to celebrate Christmas by lighting up your garden this year. We give you some tips to have the most beautiful garden, with energy-saving lighting.
Consider the type of bulbs you will use
There are many different lights available, from standard plug-in lights to solar lights. One option that is top of the list is to look for energy-efficient LED bulb lights. Not only will they cost less due to low energy consumption, but they will last a lot longer than many other bulbs. This will substantially reduce your energy usage and costs over the festive period. There are many available, including soft glow lights that can really look like snow!
Different types of lights to choose from
There is a vast array of lights to decorate your garden with, so it's a good idea to think about what style you want and what you would like your garden to look like. Would you like all of the lights to be white or full of different colours? There are also many different shapes, from flower shapes to birds, snow or just a classic fairy light string of lights. Or if you can't decide, get some inspiration when you go shopping and see all the different types available.
Safety aspects of lighting your garden
It's important to ensure you purchase outdoor lights for outdoor use. Make sure you have an outdoor safety socket that is protected from the rain or, if they are plugged in inside, that all windows and doors are secured. If cables anywhere are a trip hazard, ensure they are secured or taped down. Don't forget to include a timer for your lights so you won't ever have to remember to turn them off before you go to bed.
What to light up in your garden
Depending on your garden and what you want to achieve from lighting it up for the festive period, just about anything can be covered in lights! Icicle lights hanging from the roof, lighting up a pathway, lights sparkling in a tree or even on potted plants or by the front door. There are lights appropriate for any size, space and style. There are even lights that will 'dance' to music.
Some fun stuff for the garden
Do you want to go wild? You can have some really great fun with LED-lighted garden reindeer, angels, stars, and Christmas trees or how about a snowman? Even Santa's sledge can make an appearance. The LED bulbs highlight your garden during the evening. Give your guests a warm welcome with fun lighting figures.
Replace your old Christmas lighting with energy-saving, new, and good-looking LED lights to save money and energy this Christmas. You will be amazed by the huge choice we offer at our garden centre. Check out our range of Christmas lights in our festive store.