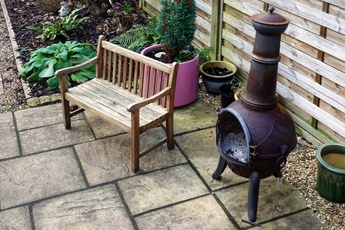 Using fire pits and chimeneas in the garden is a fantastic way to extend your time spent outside, especially during the colder months. It can be seriously relaxing to wrap up in a blanket and sit outside on a cool evening with a cup of hot chocolate in front of a fire. You might spot bats in the sky and be able to see star constellations up above. Even during the day keeping your toes warm when you are in the garden or having some friends over to enjoy some company, a fire pit or chimenea will mean you can sit outside for longer.
What are the differences between fire pits and chimeneas?
Chimineas give off plenty of heat and are much like a free-standing fireplaces. In the past, they were used for heating and cooking. Usually round with a vertical chimney, they can look great in all garden settings. Fire pits are available in various forms, usually round, from a simple circle of bricks to a fully smokeless container. You will mainly burn only firewood in a chimenea and a variety of fuel for a fire pit.
Different types of fire pits and chimeneas
There are a variety of fire pits and chimeneas to choose from, depending on your style. There are large iron, open fire pits which not only look spectacular when lit up but can sit on any patio or even be taken to an allowable beach for an evening by the sea. There are also copper and steel fire pits and circular, easy to move (when not lit) pits that create no smoke at all. Clay chimeneas are the most popular and least expensive, but there are also cast iron, copper and a host of others with various sizes and shapes available.
Fire pits and chimeneas in the garden DIY style
Building your own can be fun, and you can build to the size you require. You can buy a build-your-own fire kit with everything needed, mainly made from bricks placed into a circular position in a hole in the ground full of soil. An inner lining may be required, and as there are quite a few instructional videos available, you can get lots of ideas. Chimeneas are a bit more tricky as they should be made from clay. Purchasing one ready-made is the best option.
Safe use of fire pits and chimeneas in the garden
Never place either near your home, trees or any other structures. Please make sure they are stable. Set the chimenea on bricks or pavement and never onto a deck or flammable surface. Don't use chemicals or flammable liquids in a chimenea, and give yourself plenty of space around to sit. Fire pits are more open, and the flames are more exposed to sit at a safe distance. Remember, both are hot! So keep children and pets away. Always read the safety instructions.
We have a fantastic range of fire pits and chimeneas in store for you to choose from. Can't find what you're looking for? Please ask our friendly staff.