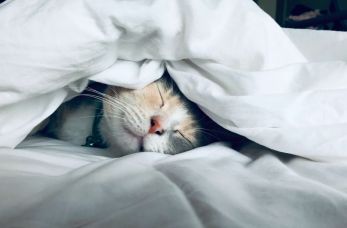 Why not spoil your pets for World Animal Day and consider helping to improve the welfare standards of animals all around the world by taking part. The day is a celebration of all welfare movements that unite to make the world a better place for animals. Everyone celebrates it differently but to create a world where animals are recognised as sentient beings, and their welfare is given the utmost respect. Why not spoil your pets even more than usual and think about how you can help promote and support animals worldwide.
Spoil your pets for world animal day with big cuddles
Well, we know your pets always get cuddles but make them extra special on this day. Why not snuggle up together with a cosy pet blanket and give them even more love. Dogs, cats, guinea pigs all pets love to connect with you so its time for a big cuddle.
Try some new treats to spoil your pets for world animal day
Whether you have fish, budgies or hamsters, why not pick up a few delicious treats to spoil them on this day. They could try something new, just a little to see how they get on and let them know how much you love them. From fresh food to treats in toys, we are sure they will love something new to try.
Spoil your pets for world animal day with a long walk
Whatever the weather, if you have a pet that can go out for a walk, grab your coat, some treats and water for your pet and get walking. Take the coastal path or through the country, perhaps up in the mountains. Wherever you go, make it quality time for you and your beloved pet.
How about a new bed to spoil your pets for world animal day
Does your pet rip up its bedding? Or perhaps they've just had the current one for ages. We all love a comfy bed and pets are no different. There are so many options from wiping easy beds to fluffy beds that pets can sink into. Many are machine washable and come in all kinds of shapes and sizes.
Spoil your pets for world animal day and have fun with a new toy
So many pets love to play with a fun toy. There are many different types available from squishy bears and ducks to noisy balls and pull ropes. For small animals, there are chewable and tasty toys to go in a cage and for larger animals try a hard to chew toy full of food. With so very many options, your pets are bound to have a lot of fun.
Whatever you need to have a fun-filled day with your pets, we have it in store so check out our pet department.