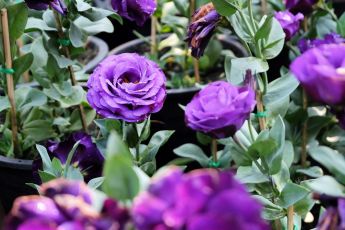 Beautiful Lisianthus is the flower of the moment and there is no wonder why it is seen in many bouquets and floral displays. Lisianthus looks very similar to roses but much easier to grow. As a cut flower, they last for a really long time in a vase and are available in many different colours from white to yellow, pink and purple.
What does Lisianthus the flower of the moment look like
Lisianthus flowers have long stems with many flowers in calming, soft colours.
It is similar to Roses both with its buds and flowers which start to bloom from early summer.
Much like Gladiolus, they start to flower at the bottom of the stem and open up in succession from bottom to top.
The flowers on each stem bloom for up to four weeks which is a lot of flowering throughout the summer months.
Lisianthus the flower of the moment varieties
With so many wonderful colours to choose from and because they are so easy to grow, you could pick any to suit your garden borders or as a cut flower for the vase. The variety of colours is always growing as well as breeders discover more for you to enjoy.
Why not try Lisianthus 'summer blue rose' which has a bluish colour mixed with slightly grey/purple.
If pale pink is more your thing 'arena baby pink' has gorgeous delicate pink petals.
For a more deep pop to your garden, try 'arena purple' or perhaps 'croma silky white' is more to your taste.
How to grow Lisianthus the flower of the moment
They are easy to grow from seed or from plug plants. Sow seeds between November to March, ideally in a heated propagator and then move them on to individual pots after germination. They will grow well in a greenhouse (frost-free) or even on a windowsill. Harden them off in Spring before planting them out when the risk of frost has passed. Of course, plug plants in Spring to be potted on and planted out at the right time are just as easy.
Lisianthus is the flower of the moment for this reason
They look amazing in a vase! Once you have sown, nurtured and enjoyed seeing them grow in the garden, you can cut them to put in a tall vase. As they flower so long, you will be enjoying them for weeks. Make sure you change the water often to keep it fresh and give them a little flower feed if needed. If you have grown plenty, don't forget to cut some to give to friends and family who will also love them as much as you. Lisianthus makes the perfect gift.
For Lisianthus seeds, a propagator and accessories to grow them, visit us in store.