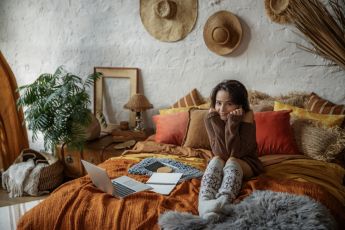 Exciting for the newest Autumn and Winter home trends of 2020? We introduce you some trendy highlights for the darker, cosier, and colder months to come. In our centre, you'll find everything you need to make your home cosy and ready for Autumn and Winter.
Travel is one of the autumn and winter home trends this year
As staycations have been the trip of choice this year, you may be longing for far offshore, blue seas and golden sands. Perhaps you are craving a tropical paradise with exotic plants. These coming seasons will see many more tropical fabrics, colours and art prints so you can bring in a holiday to your own home. If you have always wanted to go on a safari, bring the animal prints to your sofa with cushions and throws plus find different textures and fabrics that make you feel like you are in Africa. The options for a travel-themed home are endless and exciting.
Autumn and Winter home trends include plants
Over recent years houseplants have made a massive comeback to our homes. From large leaf Monsteras to prickly Cacti, barely any home is now without a plant or two. Stylise your home with plants in mind, not least because they help to clear the air of toxins but also because they soften interiors and make you feel happy. There is a plant for every home plus why not add florals to your rooms with flowery bedsheets, plant themed curtains and soft flower print rugs.
Rich Colours is top of the autumn and winter home trends list
A different home trend which can look incredible, especially in a modern home, is rich, bold, block colour. The tones will provide a luxury feel as you sink back into your blue velvet sofa surrounded by dark walls, ornate picture frames and bright textured cushions. This trend is one for the daring amongst you and will give you a special place to hide away over the colder months.
Autumn and winter homes trends to keep you cosy
Cosy and country-themed rooms are full of deep green, small floral patterns and wooden accessories. Feel comfortable in bed during a Sunday lay-in with your soft pillow patterned with florals and a tactile throw on the bed. Perhaps a lampshade with tassels and pictures of the countryside on the walls.
Colours are everything in this years autumn and winter trends
Forget white. Get colourful! Bold colours and patterns are the ideas here. No need for plain white kitchen cupboards anymore, go blue, pink or grey. Even bright bathrooms are back. White walls are no more as dark blues and light greens take centre stage.
Whatever you would like to do to spruce up your home and be on-trend for this season, think colour, patterns and comfort to help get through the cold months in a home you love to be.
Accessorise your home with our homewares and plants by visiting us in store.