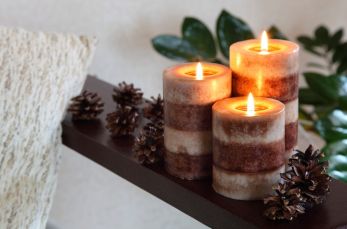 As the cold nights draw in, it's time to get warm and cosy indoors. Create your own little haven with these essential winter accessories. At our garden centre in Henley on Thames, you find all kind of interior accessories to make your home feel cosy and warm.
7 items to make your home cosy this winter
1. Candles
Nothing cheers up a dark winter evening like a few candles. Whether you choose them for their scent or simply for the comforting warm flicker of the flame, a few lit candles placed around a room make everything feel a bit better. Place tea lights in glass holders for a scatter of sparkling light or go for thick, sturdy pillar candles with minimalist appeal.
2. Wax Melts
Wax melts are a brilliant invention. They don't evaporate, so there's no need to worry about scorching the holder. Simply place a scented wax melt in a holder and use an unscented tea light to warm the wax to the melting point, then relax and enjoy several hours of fragrance. When you extinguish the tea light, the wax will solidify and can be re-used until the fragrance has all diffused out. Remove old wax before putting in a new melt.
3. Essential oil reed diffusers
If you're after a product that will scent your home for weeks, a reed diffuser is what you need. Rattan reeds are placed in a container filled with essential oil so that they absorb the oil and gradually diffuse it out into the air. And they don't just smell good – they make elegant ornaments too.
4. Throws
Give an old sofa a new look or add a touch of luxury with a few throws in soft, snuggly materials – just what you need on a cold winter's evening. Cosy up under a throw with a cup of hot chocolate and binge-watch your favourite shows.
5. Cushions
On a budget and need to brighten up a room? Create your own personal style with a couple of well-chosen cushions. Add a splash of colour to a neutral colour scheme, or pick out a favourite ornament and choose your cushions to tone with it. For a vibrant effect, choose cushions in a complementary colour – lemon yellow looks stunning against dark blue, and acid green brings deep pink shades to life.
6. Hand lotions and scented soaps
After a hard day's work, nothing feels better than soaking away the strains of the day in a hot bath with some delectably scented soap. And when you've been out in the garden, pamper your hands with a decadent dose of hand cream.
7. Indoor plants
The garden may be slowing down for winter, but you can still have your fill of greenery inside. Indoor plants like begonias, calatheas and crotons have gorgeously coloured foliage all year round. Add a note of seasonal colour with winter-flowering beauties like cyclamens and Christmas cactus (Schlumbergera), plus some ready-potted hyacinths to fill the house with fragrance.
We can all do with a bit of pampering in winter. Indulge yourself with a visit to our centre and choose something special for yourself and your family today.