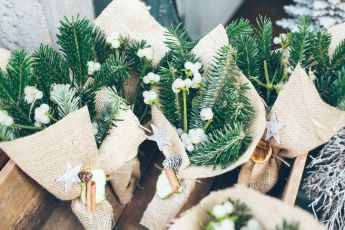 When it's cold outside, a bouquet of beautiful flowers, stems and berries is a lovely way to brighten up your home. And despite the winter chill, it's still possible to find the colour and even flowers in the garden now to add a seasonal note to your flower arrangements. Here are a few of our favourite plants for a beautiful Christmas bouquet.
1. Hellebores
Hellebores are one of the few plants likely to be flowering in the garden at Christmas. Helleborus niger is even called the Christmas rose, the name coming from a legend which tells how hellebore flowers blossomed in the snow the from tears of a young girl who had no gift to give the Christ child in Bethlehem. Hellebores are toxic, so wash your hands after working with them.
2. Ivy
Sprays of elegantly trailing ivy make a beautiful addition to any Christmas bouquet. A traditional evergreen often used in wreaths, ivy has long been used to decorate homes for the festive season.
3. Holly
With its glossy green leaves and bright red berries, holly adds a note of Christmas cheer to bouquets and vases. Holly was traditionally believed to protect homes against evil spirits – but watch out for its prickly leaves.
4. Viburnum x bodnantense
Viburnum x bodnantense is a large shrub that flowers in winter, bearing clusters of scented pink flowers on bare stems. If you're lucky enough to have one in your garden, pick a few stems for a vase and let the fragrance fill the room. If not, plant one now for next year.
5. Cornus stems
The shrubby dogwoods (Cornus sanguinea and Cornus sericea) are at their most striking in winter once the leaves have fallen and the bright red, orange or lime-green stems are revealed. Cut a few stems to add structure and vibrant seasonal colour to your flower arrangements.
6. Winter jasmine
Winter jasmine (Jasminum nudiflorum) is a splash of colour in winter, with bright starry yellow flowers gleaming on bare stems. Combine sprays of winter jasmine with trailing ivy for an arrangement that hints at the freshness of spring to come.
7. Beautyberry
The beautyberry bush (Callicarpa bodinieri 'Profusion') is an unassuming deciduous shrub that really comes into its own at Christmas, bearing clusters of glossy purple berries that look like shiny sweets (but don't eat them, they're very bitter).
8. Snowberry
Another shrub that takes centre stage in winter is the snowberry (Symphoricarpus), with its sprays of large pink or white berries on bare stems. The berries are beautiful but toxic, so handle with care.
9. Eucalyptus leaves
For foliage with the seasonal touch, you can't beat eucalyptus. The silvery foliage makes a beautiful contrast for berries or flowers and fits in perfectly with Christmas decorations.
If you need some Christmas inspiration, visit our centre where you'll find everything you need, from decorations and homeware to gifts for the gardeners in your life.