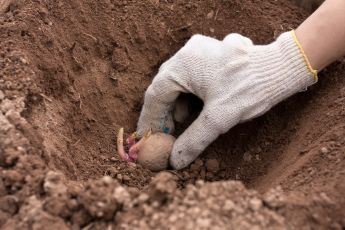 Fancy eating your own home-grown potatoes this summer? Now's the time to start planting. And if you don't have a big garden, you can still grow early potatoes in a pot or grow bag on a sunny patio. Here are our top tips on growing potatoes.
Which potatoes to grow
Potatoes are grouped into first early, second early, and maincrop potatoes.
First and early potatoes are planted in early spring, and second early potatoes a couple of weeks later. They are harvested in the early to mid-summer.

Maincrop potatoes are planted in mid-spring and take longer to mature than the early potatoes, ready to harvest in late summer and early autumn.
Chitting potatoes
It's a good idea to 'chit' first and second early potatoes, as it can give you a better harvest. You don't need to chit maincrop potatoes (although it won't hurt them if you do). 'Chitting' potatoes means allowing them to sprout shoots before planting them. Here's how it's done:
How to chit potatoes
In late February or early March, place your seed potatoes in a container with their 'eyes' (the bumps on the skin where shoots will sprout) pointing upwards. Egg cartons make ideal containers for chitting potatoes.

Put the container in a bright, frost-free place, like a windowsill, and leave it there for around 4-6 weeks while the potatoes sprout.

Once the shoots are about 2.5cm (1in) long, the potatoes are ready to plant. Remove all but the strongest two shoots on each potato before planting.
How to plant potatoes
Several weeks before planting, dig well-rotted farmyard manure into the soil to improve the structure. Ideally, do this in autumn so that the soil is ready for planting in spring.

To plant potatoes, dig trenches 15cm (6in) deep, spaced 60cm (2ft) apart for early potatoes and 75cm (2.5ft) apart for maincrops.

Place the potatoes in the trenches, with shoots pointing upwards on chitted potatoes. Space early potatoes 30cm (12in) apart and maincrops 40cm (16in).

Cover over with soil.

To plant potatoes in containers, choose a big pot at least 45cm (18in) deep. Put a 15cm (6in) layer of compost at the bottom of the container, place two or three potatoes on the compost and cover over with more compost.
Caring for potatoes
As your potatoes grow, earth them up by mounding up soil around the plant stems. This stops the developing tubers from being exposed to light, which would turn them green and toxic. For container-grown potatoes, keep covering the shoots with compost as they grow until the container is full. Water potatoes well in dry periods, especially container-grown potatoes.
Harvesting potatoes
Harvest first early potatoes in early summer, seconds from midsummer and maincrops from late summer. Cook, grill, steam, and bake potatoes and use them in any dish! Good luck with planting potatoes.
Want to start growing your own vegetables this year? Visit our centre today and take your pick from our great range of vegetable seeds and seedlings.